Cedar Mountain Historic Trail Ride
This is a unique opportunity to ride on battlefields that are not open to the public to ride. Bull Run Hunt has gotten special permission from the land owner

to offer this great trail riding opportunity on this historical battlefield.

 

This ride may never happen again

.
ITINERY: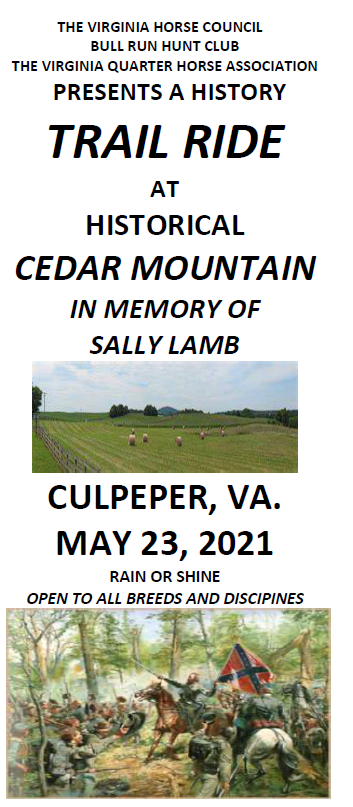 8:30A.M. Gates open for registration.
Riders may leave after they register.
10:00a.m. All riders should be on the trail.
1:00-2:00p.m. Lunch at base camp.
4:00p.n. Gates close and all riders should
depart.
FEES:
Adults $45.00 includes lunch
Youth 18 & Under $35.00 includes lunch
Lunch Only: $20.00
Late Fee after May 17, 2021 additional: $15.00.
Send in one year Negative Coggins with entry.
WATER: Bring your own horse water. Trails may
or may not have water
Port-A-Potties will be on site.
TRAILS:
There will be 2 rides. The short ride will be
about 6 to 7 miles. The long ride will be 10 plus
miles.
RULES AND REGULATIONS:
 Current negative Coggins required (Please send a
copy with your registration)
 Anyone on the grounds must sign a release
waiver.
Youth under 18must have a parent/guardian sign
a release/ waiver, no exceptions.
 An adult must accompany youth under 15 on
trail
 No youth under the age of 6 are allowed to ride
 Ride on designated trails only
 No alcoholic beverages, smoking or fire arms are
allowed on the trails.
 For safety reasons stallions are prohibited.
 No dogs on trails
 Please keep parking area clean and clean up
before leaving.
 Respect all other riders and land owners' fields.
 Most of all PLEASE RIDE SAFELY!
---
PLEASE CLICK HERE  FOR MORE INFORMATION AND TO VIEW THE PRINTABLE FORM
---
PLEASE CLICK HERE TO REGISTER AND PAY ONLINE
---