The Virginia Horse Council is your voice for the expanding equine industry in the Commonwealth of Virginia. The Council is a not-for-profit organization formed by horsemen for Virginia horsemen. The membership and Board of Directors represent all breeds. The purpose of the Virginia Horse Council is to promote and improve the horse industry in Virginia.
Our mission is to serve as the umbrella organization of the Virginia equine community and to monitor legislative issues affecting horsemen and horses in the Commonwealth.  The vision of the Virginia Horse Council (VHC) is to be recognized as a leader in providing broad representation to all facets of the equine industry before the Virginia General Assembly and Congress.  The VHC collaborates with other areas of the agricultural community and helps facilitate communications between members of the equine industry and state and federal agencies.  The VHC aspires to keeps Virginia horsemen informed of regulations and pending legislation they may impact them, and to provide educational opportunities that further enhance the industry.
Please consider Joining The Virginia Horse Council! 
Now through January 15th, join the Virginia Horse Council at $5.00 off the regular membership price.  Large organizations (100 members or more) will receive $10.00 off! 
Join now and get membership benefits for 2021!  After we receive your membership application, you will receive a Welcome Packet which will include:
*Membership Card*
*VHC Scholarship information*
*Info on exciting Member Benefits*
*In-Excess policy (if purchased)*
Business Members are also eligible to have their business listed on our Business Members page!  If you purchase a business membership and wish to have your business listed, please send your business name, address, contact info, website link, and logo to Laura
If you would like to have your Business added to the Business Members Links on our Home Page (see below) for an additional fee or listed on our newsletter, please go to This Page and choose an option!
****VHC ANNOUNCEMENTS****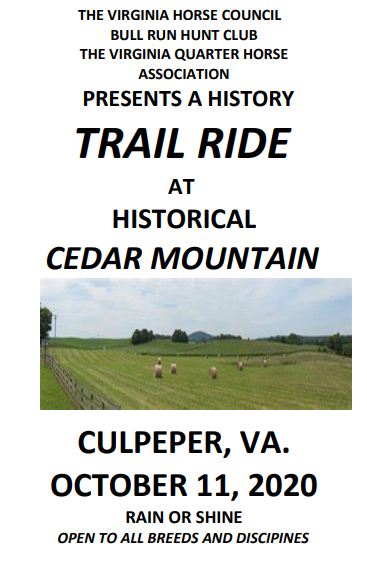 This event has been cancelled due to landowners concerns over forecast weather.  Please check back early next year for information on possibly rescheduling in the spring.