VHC Trail Related Activities
From the beaches to the mountains, Virginia has a wonderful variety of beautiful trails open to equestrian use. Whether you want to ride for a day, or for a week, there is a place that fits everyone's level of expertise and athletic ability. There are trails that are easy enough to build the confidence of a young horse and there are trails that will test one's sense of adventure and the fitness level of your mount. Trail riders, like most trail users, are tourists who want to enjoy not only the beauty of the trail on the landscape, but to explore the surrounding area and other recreational opportunities as well. Trail riders in Virginia are fortunate to be able to select from trails in National Parks, National Forests, state parks, state forests, wildlife management areas, battlefield parks, and local parks. While the majority of Virginia's trails are located in the mountains, there are many other trails around the state to choose from.
Resources and Library
AmericanTrails.org provides information about equestrian trail advocacy, publications, education, impacts and stewardship, and trail management and design, along with a number of webinars related to equestrian trails. From the search bar on the home page, type in "horse" or "equestrian to find the specific resources.
The Equestrian Land Conservation Resource is dedicated to promoting access to and conservation of land for equestrian use. It acts as a clearinghouse for information concerning land protection, land use policy, and equestrian land stewardship. This website is an excellent resource with many useful articles and scientific papers related to land conservation and trails posted in its library.
Equestrian Design Guidebook to Trails, Trailheads, and Campgrounds.
The BEST resource for your trail, trailhead, and camp design questions and a great resource for land managers.
Tread Lightly! Provides Tips for Responsible Horseback Riding that include practicing the TREAD Lightly Principles for being a good steward of America's Public Lands.
TrailMeister is another informational resource about trails in Virginia and across the nation.
Virginia State Parks have 6 horse camps and 19 parks with multi-use trails. Visit the Virginia State Parks website for more details.
Trails Brochure
If you own horses and enjoy trail riding, you've probably visited one of Virginia's many public horse trails. Responsible use of these trails is critical to ensure that our current recreational opportunities are preserved for the future. Read on to learn more about our public trails, the need to follow unwritten as well as posted rules, the importance of the "Leave No Trace" ethic, and how to join the growing number of equestrians taking time out of the saddle to contribute to trails preservation. Volunteer involvement will help ensure that future generations have available the same – or better – trail resources than what we enjoy today. Email Sally Aungier if you any questions or supplemental information to share.
VHC Equestrian Trails Tourism Survey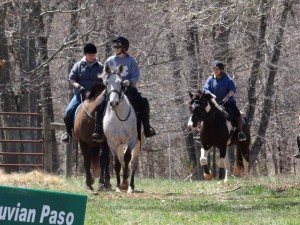 The VHC conducted an Equestrian Trails Tourism Survey with Carol Kline, Assistant Professor, Hospitality and Tourism Administration, North Carolina Central University. The study was conducted for the VHC to gather information and impressions on the state of trail rides within the state of Virginia. We all know that the equine industry is a large economic force in the state and in the nation. Trail riding and the travel associated with it is one facet of that industry. Participants were asked to help us understand the current state of trails in Virginia by telling us what is available in their county, their travel habits, and providing other information that will assist us in growing equestrian tourism in an economically, socially and environmentally lasting way.
The information obtained from these questions has been used to gain a local and statewide understanding of the existing resources used for trail riding and the issues surrounding the expansion of this exciting industry niche. It has been used by local equestrians who are developing justifications for equestrian facilities in their counties and public lands.
A copy of the Survey Summary is available for download. A copy of the Survey Slide Show is also available. It is the VHC belief that data obtained in the survey can be used to:
Influence decisions regarding Legislation and policy and the local and state level.
Facilitate trail and camp development.
Prioritize improvements at existing facilities.
Assist private enterprise development.
Encourage local tourism.
If you have any questions regarding the survey process or results, please contact Sally Aungier.
VHC History Trail Rides
In 2008, the VHC began holding trail rides across the state that give riders an opportunity to combine their love of horses and Virginia history. Sites have been chosen that riders would find special because of the rare opportunities to ride there. Locations so far have included the following:
Belmead Plantation in Powhatan (2008)
Ingleside Plantation, Oak Grove (2008)
Stratford Hall Plantation, Stratford (2009)
Pocahontas State Park in Chesterfield (2009)
Carter's Grove Plantation in Williamsburg (2010)
State Arboretum/Blandy Experimental Farm, Long Branch Historic House and Farm, and Montana Farm, Boyce (2010)
Buck Mountain, Free Union (2011)
150th Anniversary of Jeb Stuart's Ride, New Kent (2012)
Fort Pocahontas & Sherwood Forest Plantation, Charles City (2012, 2013)
Castalia Farm & others Keswick Hunt Club Territory, Keswick (2014)
Atwilton Farm, Montross (2015)
Mt. Sharon Farm& others Keswick Hunt Club Territory, Keswick (2016)
Historic Cedar Mountain in Culpeper (2021)