Description
Specialty Trail Rides
---
About This Trail Ride
The Virginia Horse Council, Culpeper Battlefield Tours, American Battlefield Trust and Virginia Quarter Horse Association welcome you to a one-of-a-kind historical trail ride at Brandy Station Battlefield on Saturday, Oct. 28, 2023.
Join us for a unique opportunity to experience Brandy Station Battlefield, site of the largest Civil War Cavalry Battle in the United States, with several Civil War reenactors and guides sharing battle highlights at significant battlefield sites throughout the property.
Brandy Station Battlefield
Brandy Station Battlefield encompasses over 1,000 acres of preserved land, currently owned and protected by the American Battlefield Trust and slated to become one of Virginia's newest State Parks in 2024. The Battlefield is located in Culpeper County, host of the largest concentration of significant Civil War sites in the country, including Brandy Station, Cedar Mountain, Kelly's Ford, Raccoon Ford, Rappahannock Station and Morton's Ford.
The Battle of Brandy Station on June 9, 1863 was the largest cavalry battle of the American Civil War with 20,000 mounted Union and Confederate troops. The Battle was significant in its historical players and cavalry as well as the outcome of the turning-point campaign of the Civil War: Gettysburg.
Today, much of the land at Brandy Station is pristine and the same as it was in 1863 – 160 years ago.  Given the large acreage, horseback is an ideal way to experience the Battlefield. Seven miles of trails meander through open fields, woodlands, hills and vistas and historic sites such as St. James Church.
Trail riders will have the option of riding a short, 1-to-2-hour ride, or a longer trail ride throughout the property with reenactors and guides stationed at significant battle highlights.  This is not a led trail ride; riders will go in small groups at a slow pace along marked trails through gentle rolling terrain and mostly natural surface trails.
Pre-registration is required, and lunch is included. This a one-day event; local horse camping options are available if you travel a distance.
For more information about Brandy Station Battlefield: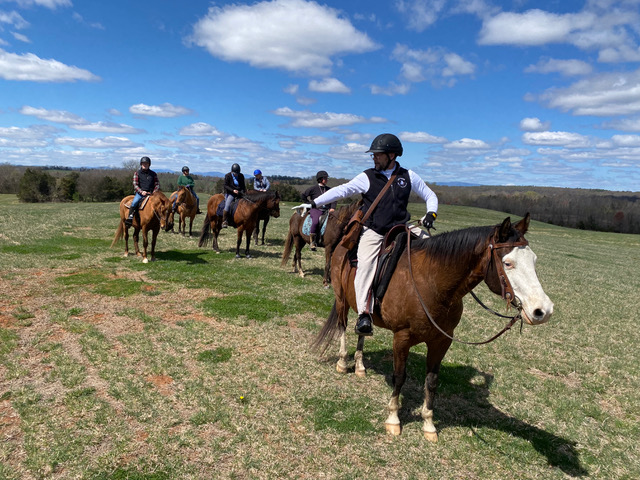 Culpeper Battlefield Tours at http://www.culpeperbattlefieldtours.com
American Battlefield Trust at http://www.battlefields.org

---
PLEASE

CLICK HERE

 FOR MORE INFORMATION AND TO VIEW THE PRINTABLE FORM
If the brochure does not print correctly, you must set your printer to "landscape" or "auto"
---